Villa Sunset is now Discontinued.
Villa Sunset by Casa Linda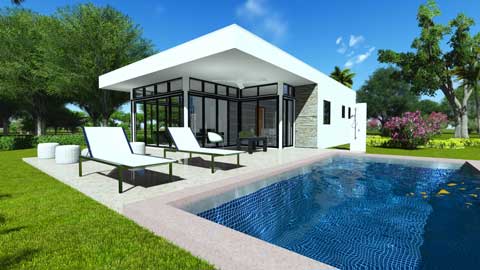 VILLA SUNSET
2-Bedrooms/2-Baths:
Villa: 1,001 ft2 (93 m2)
Lot: 3,767 ft2 (350 m2)
Pool: 6,000 gallons
$135,548 US
Moderately Priced for your Retirement, Caribbean Living or Investment Property 
Enjoy the Caribbean in this entry level villa created to offer buyers a true tropical lifestyle.
Sunshine streams through the glass doors along the side and back of the villa blurring the lines between indoors and out.  An open plan kitchen/dining/living room is perfect for entertaining, and every area has a perfect view of the yard, pool and covered terraces.  Both bedrooms are a good size and each has a full bath. Inside laundry and storage round out the villa.
The price includes the lot, construction of the villa, landscaping, swimming pool, and service building for pool equipment/storage.
Ask for your Free Buyers Guide
For your free Buyers Guide and more information please reach Richard Regan at Wildefire Properties, Richr@Wildefire.co