Christmas Traditions in the Dominican Republic
Christmas in the Dominican Republic is a very special holiday. It is full of wonderful traditions and celebrations. The Christmas season begins as early as October and continues to the end of December. It was recently described to me  as … "there is a feeling of the Christmas Spirit everywhere in the Dominican Republic – even at work. We go out more with our friends and spend more time with our families". 
Christmas Trees & Santa Clause in Puerto Plata Square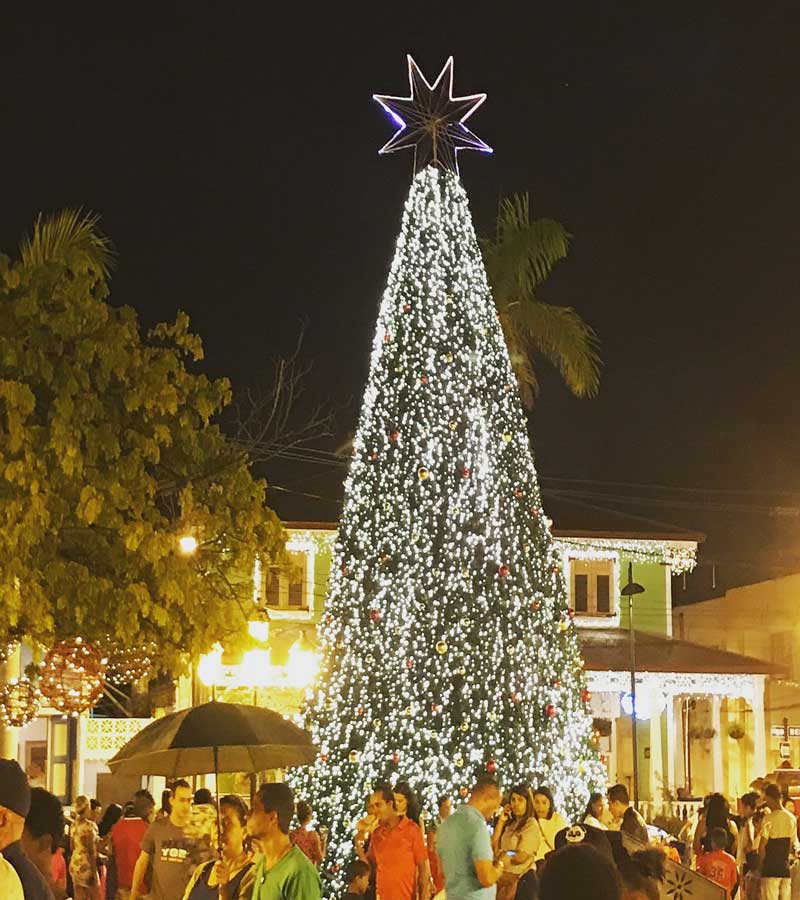 Many of our North American traditions are also celebrated in the Dominican Republic. The Puerto Plata square or 'La Plaza Independcia' at Christmas is absolutely stunning.  It is a caribbean christmas wonderland at night with festive holiday decorations and twinkling lights.  A tall christmas – tree shines brightly inviting everyone to take pictures or simply enjoy its' incredible beauty.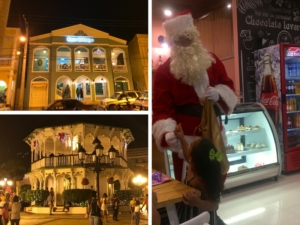 Nearby shops, cafes and victorian buildings are also adorned with christmas lighting. Large evergreen wreathes with red bows hang from windows and arches. Children enjoy window shopping while pointing out their favourite toys.
During the week-end there is plenty of music and family christmas events. You will find clowns on stage singing and entertaining the crowds, mickey-mouse balloons and yes – even our favourite guy in the red suit, Santa Clause. 
Nativity Scene or "Nacimiento"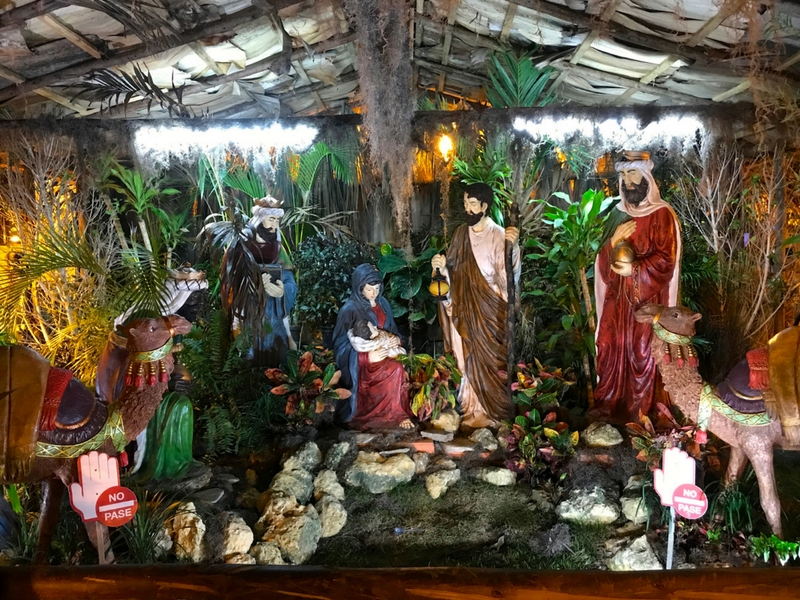 The nativity scene is also a Christmas tradition in the Dominican Republic. It represents the birth of Jesus, with the Virgin Mary, Joseph and the Three Wise Men alongside all the animals from the stable. This nativity scene is located at the Puerto Plata Square and was very popular to stop and visit.
What is a Traditional Dominican Christmas Dinner? 
Christmas dinner is typically celebrated on December 24th, Christmas Eve or NocheBuena, and leftovers are for December 25th. Christmas is all about plenty of great food shared amongst family and friends. 
I asked several of my Dominican friends living in different areas of the country what their favourite dishes were at Christmas and they all answered the same. Roast Pork was number one their list.
Roast Pork/Puerco Asado or Roast Chicken/Pollo Horneado – One of the most important items on the Christmas menu. Many Dominicans will order their pork ahead of time or directly from the farmer to prepare for Christmas dinner. The pork it typically cooked outside on an open fire giving it all that wonderful flavour.
Russian Salad or Ensalada Rusa – Cooked potatoes, peas, carrots, hard-boiled eggs, vinegar, onion and mayonnaise. It is delicious! Some recipes will vary.
Pasteles en hojas – Our friend Mary brought these for our very first Christmas dinner and we loved them. They are made using different meats such as chicken, fish, beef or vegetables and cheese. The meat is then rolled onto a banana leaf and tied nicely with string. They are served steaming hot and are delicious. You can also add your favourite pepper sauce as a condiment.
Moros de Guandules – Rice and 'gungo' peas 
Ensalada Verte or Green Salad – Made typically with four ingredients, tomato, leaf lettuce, cucumber and hard boiled eggs. Various dressings are served with the salad.
'Ponche de Huevo' or EggNog is also a tradition made with Dominican rum. You can also buy it in the grocery stores.
Fruit Stands – Sweets, Apples, Grapes, "Gomitas" at Christmas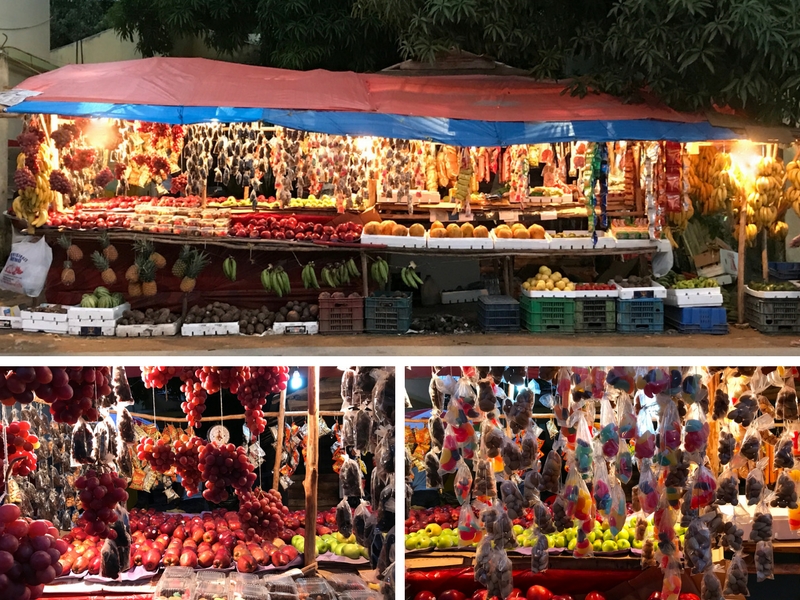 Dominicans love their sweets 'Dulces' and especially at Christmas time. We stopped at this fruit stand on our way to Puerto Plata and bought our favourite jellied candies or "Gomitas" for Christmas – actually we ate them right away.  You can buy all the traditional fruit and sweets for the holiday season such as red apples, grapes, raisins, jellied or marshmallow candies .  Fruit stands like this one are easy to find everywhere in the Dominican Republic during the holiday season.
Charamicos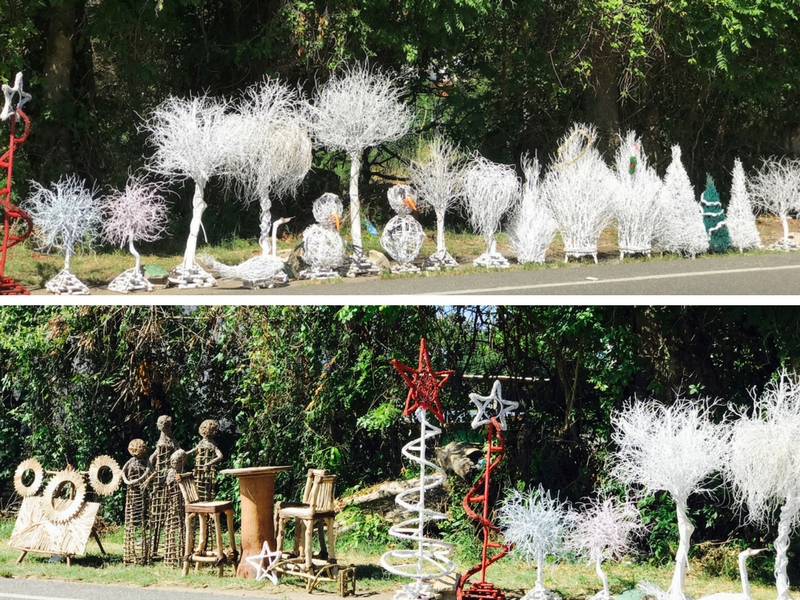 These hand-made decorations are very popular at Christmas time. Charamicos are made from vines, twigs and roots collected along the highways. Next they are woven and hammered together to create various art forms such as stars, christmas trees, wreathes, basket, balls, donkeys and other animals.
Once the form is created they are painted in white to represent snow or other colours for christmas. They are beautiful when decorated with white lights. I took this picture around the corner from our home in Sosua.
Poinsettias or 'Flor de Pascual' 
Colourful poinsettias are found everywhere in the Dominican Republic at Christmas. Just around the corner from our home in Sosua was a beautiful flower stand displaying various colours of poinsettias, orchids, and small green pine trees.  Poinsettias trees are also stunning at this time of year.
If you are looking for some great Dominican recipes for the holiday season try DominicanCooking.com "Simple By Clara". I love all her recipes and you can also follow Dominican Cooking on pinterest.
Rich and I would like to wish all of you a very Merry Christmas "Feliz Navidad"!
Cat