Buying a vacation home overseas is a big decision.  There are many factors to consider from affordability, stability of government, medical services to hurricanes. It is important to find the right place where you and your family can feel safe and secure. A place where you can meet "like-minded" people and be part of a great community.  Welcome to Casa Linda.
Casa Linda is a residential gated-community located on the North Coast of the Dominican Republic. It is ideally situated between the infamous water-sport capital of the caribbean, Cabarete, and the tropical beach-town of Sosua. It is also 15 minutes from the Puerto Plata International Airport making travel quick and easy.
Casa Linda began 30 years ago and to date has completed 300 homes. It is recognized as one of the most respected and popular developments on the North Coast of the Dominican Republic. It offers affordable quality homes in 10 unique floor plans. Each plan is customizable so you get the villa the way you want "your villa your way". 
Recently featured on HGTV's Caribbean Life and a recipient to several Caribbean Gold Coast Awards speaks to its' popularity and charm.
We have lived full-time in Casa Linda for 7 years and have sold vacation homes to many wonderful families that simply love their tropical lifestyle and friendly community. Let me tell you a few reasons why you may like it too!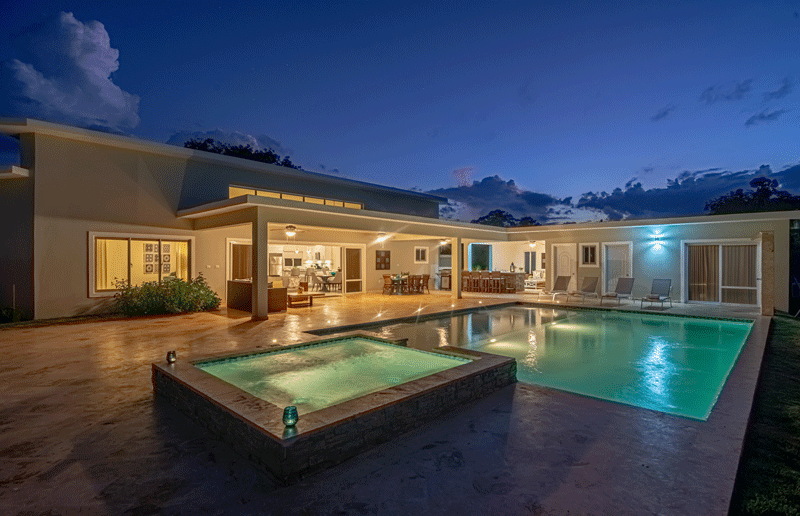 Full Administration Service – Owners have a 24 hour english-speaking administration service. Today foreign buyers require special services especially if you do not live here full-time. This dedicated service manages your villa including all your monthly bill payments and taxes. They also manage the maintenance on your home, housekeeping, pool/garden care and act as a point of contact in case of emergency.
Full Service Rental Program – As a home owner you have the opportunity to place your villa in the internationally-marketed rental program to earn rental income. A full time travel planner/concierge is on-site to assist vacationers. You can use you villa at any time and as often as you like.
Security – Casa Linda is a 24-hour gated security. Lock up your villa and know it is in good hands.
Excellent Value – You will find executive construction standards. Choose from a variety of floor plans and customize at no charge. Our villas are affordable, fully titled and offer

 

guaranteed privacy. Green technologies are available.
Logistics – Casa Linda is 5 minutes from Sosua and 10 minutes from Cabarete. You have so many beautiful beaches to choose from plus shopping and amazing restaurants all within minutes from your home. The Puerto Plata International airport is also 10 minutes from CL
Lifestyle Community –

 

"We want our owners to thrive" Casa Linda provides their home owners with the opportunity for not only a good life but also an active and friendly one. Scheduled events are planned from Spanish lessons, card games, wine tasting, movie night, live country rock to jazz musicians, learn to bachata, specialty dinner events to shopping excursions in Santiago and so much more.
Full Time Concierge/Travel Planner – Casa Linda has a dedicated travel planner to help you plan your family trips, organize events, provide travel assistance and bookings.
Home Owners Liaison – To help home owners with any issues related to their villa.
Complimentary Shuttle Service – Free shuttle to take you to Cabarete and Sosua several times each day – 7 days per week. A shuttle schedule is on-line with pick-up/drop-off locations and times.
Castaway's Clubhouse & Eatery – Casa Linda's own on-site restaurant offering owners and guests a relaxed and fun dining experience. Castaway's offers a great food selection on their menu and at reasonable prices. They also have happy hour .

 

Order in – we love the delivery service or order ahead and pick-up. Castaway's is also a social place where you can meet-up with friends and play a game of cards while sipping on your favourite cocktail.
VIP Beach Club – Casa Linda home owners can enjoy complimentary bali beds and chairs

 

at the VIP Beach Club in Cabarete and Sosua Beach. By the way they are very comfortable.
No Hurricanes – The North Coast is naturally protected by the large Cordillera Central mountain range (Pico Duarte is more than 10,000 ft at it's highest peek and the highest in the Caribbean). In 2017 both Category 5 Huricanes – Irma & Maria were considered tropical storms and we experienced high winds with minimal damage.