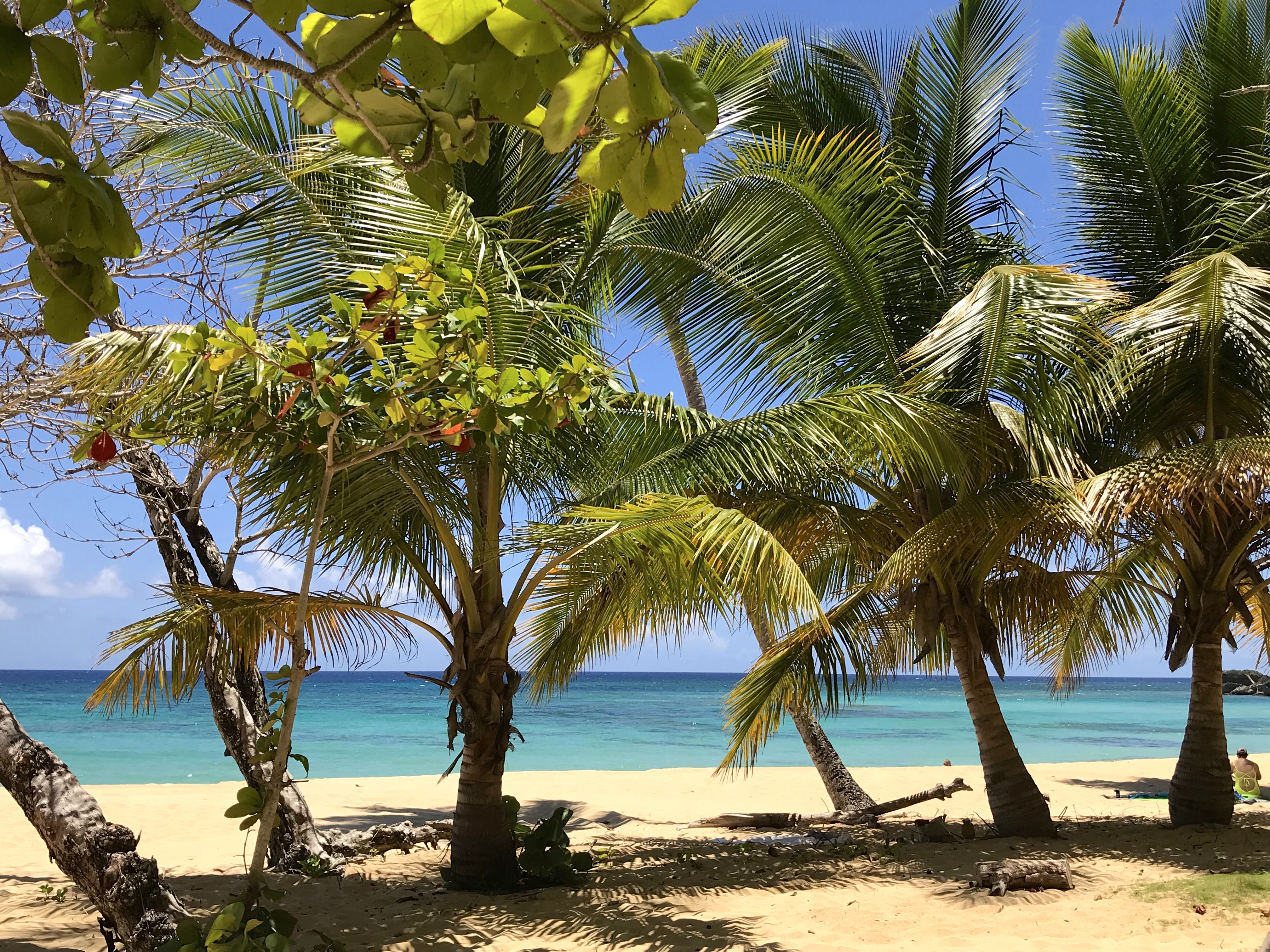 We are spoiled living in the North Coast of the Dominican Republic. Our country has some of the most beautiful and diverse landscape for a Caribbean island.  
The Dominican Republic has majestic mountain ranges, stunning rivers that lead to cascading waterfalls, national parks, tropical rain forest and so much more, however the "pièce de résistance" … are the spectacular beaches.
But you knew that right! 
Rich and I live on the border of Cabarete and Sosua in the gated-community of Casa Linda. We are just minutes from Cabarete Beach (sports capital of the Caribbean), Playa Encuentro, Playa Alicia and Sosua beach. However one of the most picturesque beaches we like to visit is Playa Grande.
Welcome to Playa Grande.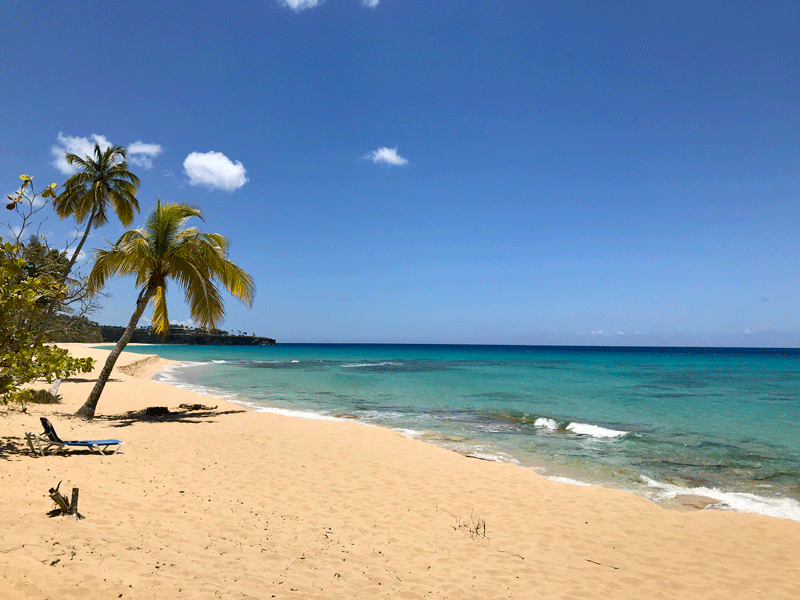 Playa Grande is renowned for its natural beauty. It is located on the north eastern part of the island between Rio San Juan and Cabrera. It is approximately 75 miles or 125 kilometres from Puerto Plata city or an hours drive from our home in the Cabarete area.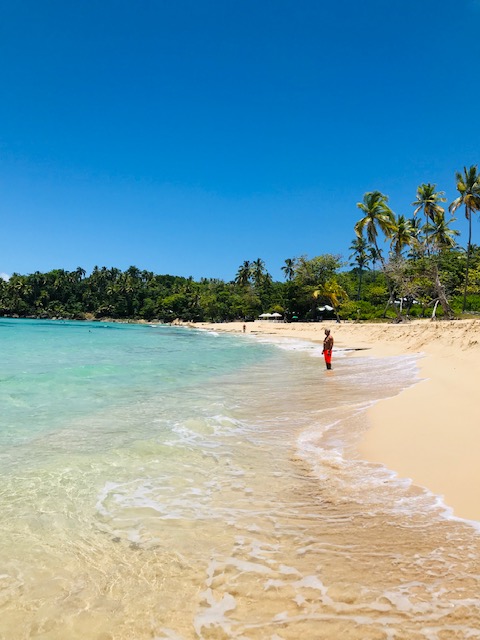 The beach is approximately one mile or two kilometres in length and is fairly wide. The sand is golden in colour and soft on the feet for walking. The ocean always has amazing colours from a light green turquoise to a deep blue. 
These photos were taken this past July 2019 which is considered the summer season (May – October) in the Dominican Republic. During the summer months the ocean is typically calmer making it ideal for swimming and snorkelling.
The winter season (November – April) the ocean will have larger waves  especially  in Playa Grande making it a popular place for surfers. It can also have stronger currents so you need to be a bit careful when swimming. No matter what season Playa Grande is always beautiful so don't forget your camera.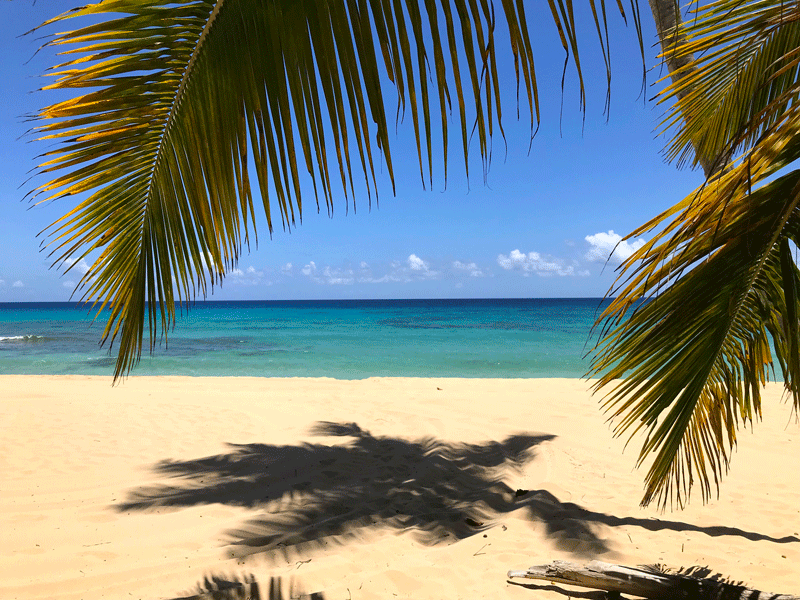 This was our view while sitting under a canopy of coconut palms. It was the perfect beach day.
The skies were blue and the sun was shining. The ocean was warm and crystal clear.  The beach was quiet and peaceful. There was was a slight ocean breeze that helped to keep us cool.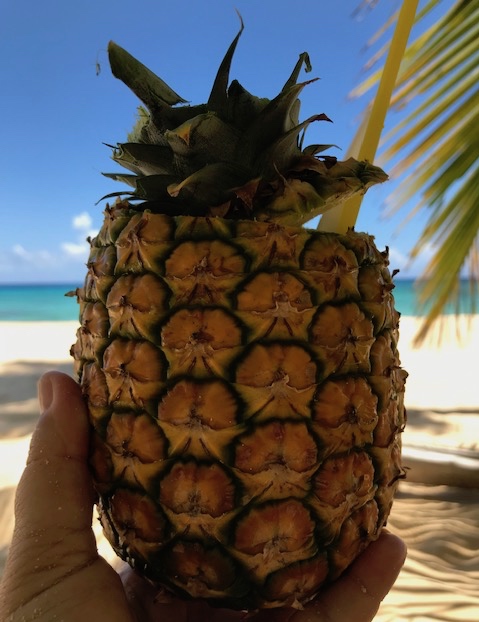 My piña colada with lots of ice, pineapple, coconut milk, lime and rum. Sometimes this is the perfect lunch on a hot summer day!
Playa Grande has local vendors on-site that serve fresh seafood. You can have your lunch delivered to you right on the beach. They will set-up table and chairs with everything you need. I highly recommend you order a seafood or Dominican style lunch with perhaps a cold Presidente or two. Salute!
Here is a great Recipe for Pina Colada in a Pineapple 
If you have any questions about living in the Dominican Republic please let us know.
All the best.
Cathy Regan.