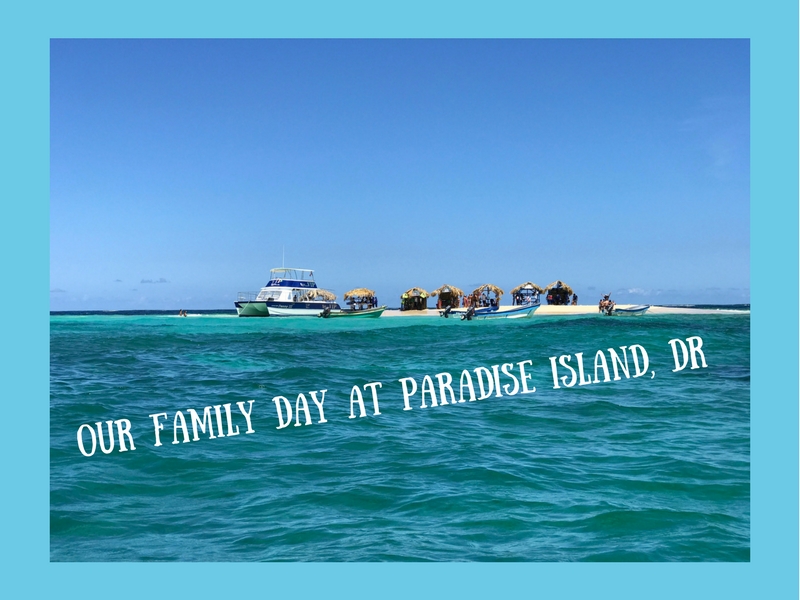 Paradise Island or Cayo Arena has been described as magical and truly authentic. This tiny island or sandbar is located in the north-western region of Puerto Plata in a small village called Punta Rucia. Standing only a few meters above sea level Paradise Island is surrounded by coral reef and crystal clear water. It is a great place to spend a few hours snorkelling, swimming and simply enjoying some of the most beautiful scenery in the Dominican Republic's north coast.  
"I loved seeing the island in the middle of no where as it just pops out of the water" … Karen Roy
Arriving at Paradise Island Beach Club, Punta Rucia – Puerto Plata
After a scenic two-hour car ride from Sosua-Cabarete our family arrives at the Paradise Island Beach Club in Punta Rucia. Punta Rucia is a quaint fishing village with powdery-white sandy beaches. The stunning turquoise colour of the ocean is very inviting and the water temperature is warm for swimming.
The Beach Club offers comfortable bali beds, hammocks and chaise lounges to kick back and relax. Just off the beach there is a large colourful trampoline perfect for the kids (let me clarify…the big kids)  to jump on and plunge into the water. Needless to say they had a blast!
From the Beach Club an expert guide will take us by boat to Paradise Island. The cost is approximately $45US per person and it includes: our boat ride with tour guide, snorkelling equipment, drinks at Paradise Island, a boat ride through the mangroves and a great lunch back at the Beach Club.
Our Boat Ride to Paradise Island (Cayo Arena)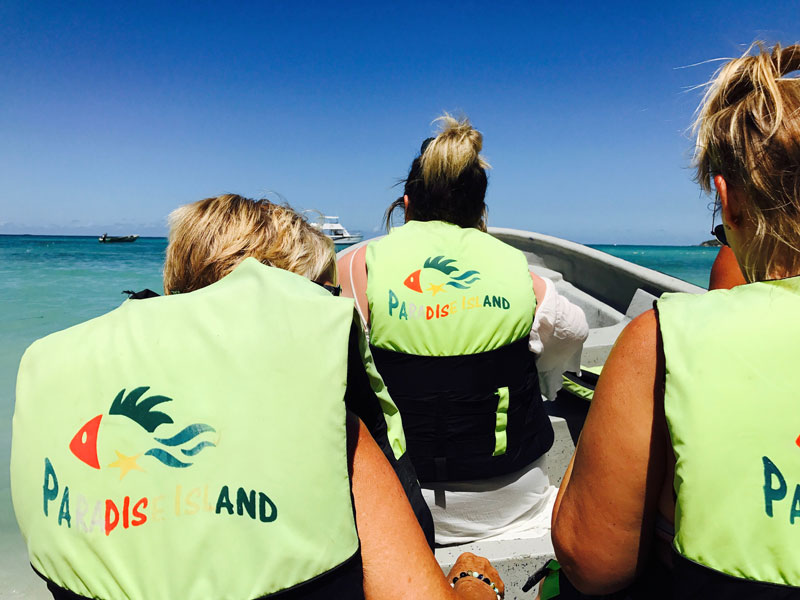 Next we cast ashore into the clear blue yonder looking for a tropical island. Along the way we saw pelicans gliding just above the surface of the ocean and a few large fishing boats. The water is quite shallow and at times you can see straight to the bottom. 
Our boat ride was approximately 15 – 20 minutes and everyone was excited about looking for an island. Before too long we were all pointing to a tiny speck in the horizon namely Cayo Arena or Paradise Island. 
We were asked not to take beach towels on the island or wear shoes. This is to help keep the island clean and maintain is natural pristine beauty.
Ahoy Paradise Island
The Paradise Island team had drinks ready for us when we arrived and a shelf to store our personal belongings.  It was not very busy so it was perfect to walk around and take-in all the beauty while enjoying our cold beverages (yes to rum if you like). 
Suggestion: Do take a camera or go-pro to capture some amazing underwater videos of all the tropical fish. Make sure to have sun screen and maybe a long-sleeve shirt when snorkelling as added protection.
The guides will help with your life jackets and snorkel gear. You have a choice  to snorkel out around the coral reef where the ocean is about twenty feet or just stay close to shore. Our family loved swimming out around the coral reef and seeing first-hand all the colourful fish. The guide takes his time to ensure we follow him while pointing out some of the colourful fish and sea-life. We saw a barracuda, jelly-fish (the ones that don't sting), lobster and some beautiful coral. 
Rich and I have been to Paradise Island many times and the guides at the Paradise Island Beach Club do an amazing job. They are very helpful and lots of fun!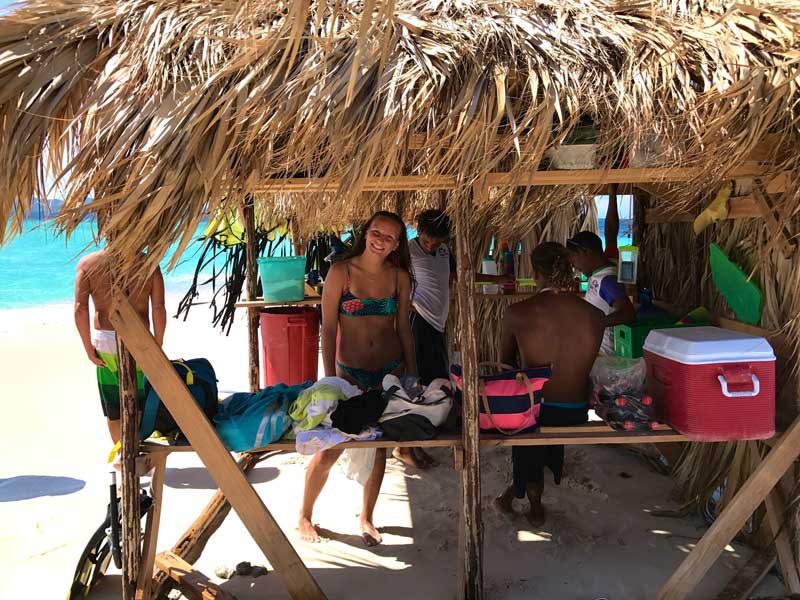 Our niece Haley was our sports model and we could hardly keep her out of the ocean. During our snorkel she was able to remove her life jacket and dive a bit deeper with her Uncle Rich. Also to mention my mom joined us who is 76 years old and in great shape – she absolutely loved snorkelling and was a real pro.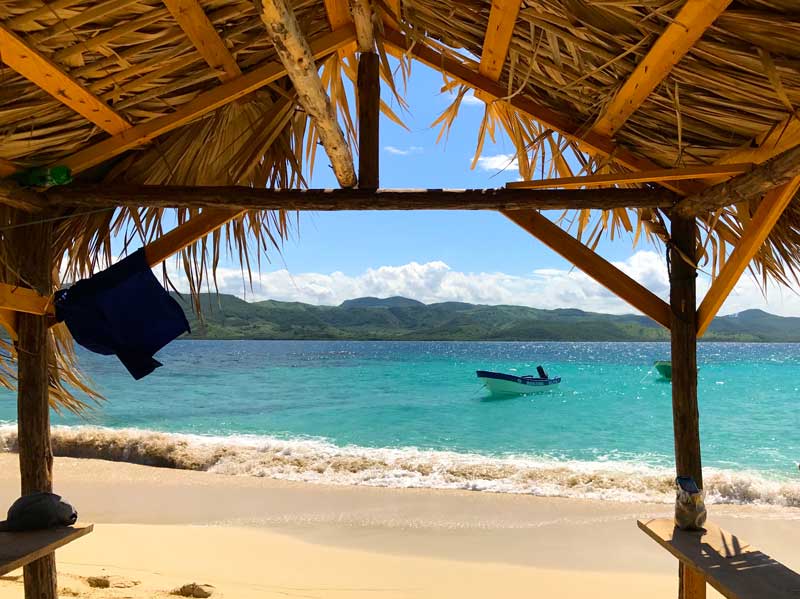 Looking out from under the hut on Paradise Island to the green mountain views and all the natural beauty of the Dominican Republic.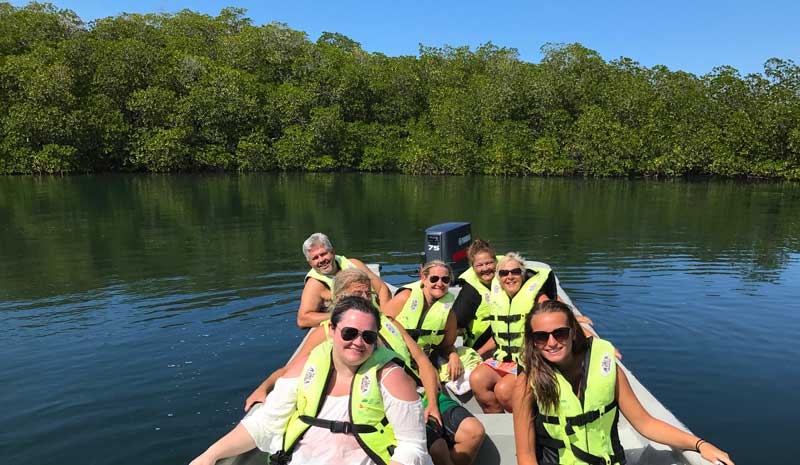 On our boat ride back to the Beach Club our guide takes us thru the mangroves. Family picture time!
Finally we arrive back at the Beach Club along with our appetites. Our lunch was quite delicious with fresh seafood, rice, salad and several other dishes on the menu.  While eating I could hear the bali beds calling my name. For the remainder of the afternoon we relaxed, swam and a few of us had a quick nap (right Rich) while enjoying the caribbean sun.
This was a wonderful family day with great memories. Thank you to the Paradise team.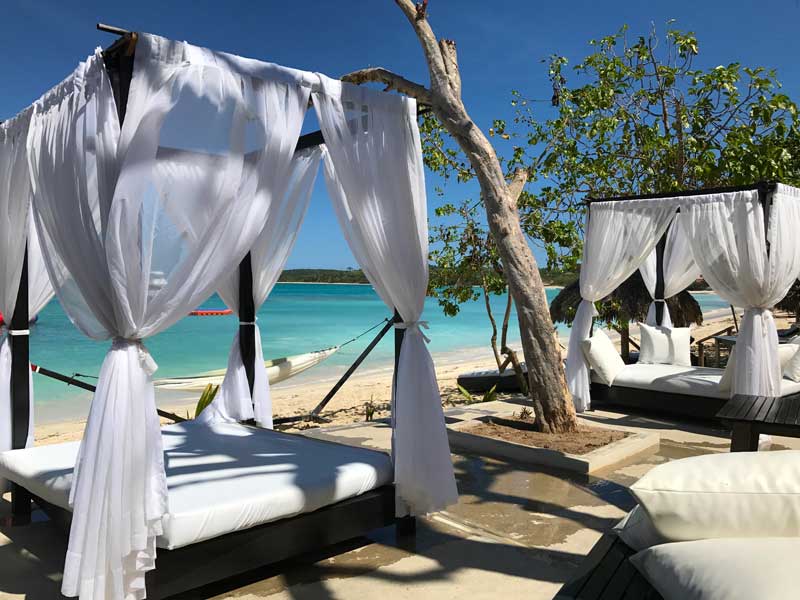 PS – It was a very quiet car ride back home. So bring your sleeping pillow.
Until next time 🙂
Cat