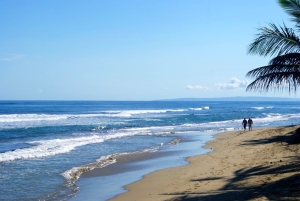 I just recently read an interesting article by *Live & Invest Overseas" called "Unretirement". Let me share with you an excerpt.
"Unretirement is about participating in your world and your community in new and broader ways than your previous life allowed, meaning infinite opportunity for learning, for growing, for contributing, for reinventing, and for finding purpose".
It also says "The dictionary defines "retirement" as a state of "being withdrawn from the rest of the world or from a former busy life…"Even if you could afford to do that, who'd want to?"
Agreed! Today many North Americans we meet are looking for a change in their life. Perhaps an early retirement. Caribbean living is calling their name.  Time to try something new, live healthier and stay young!
When Rich and I decided to move to the Caribbean it was important for us to find affordable real-estate. Also, must have an established expat community and definitely the opportunity to re-invent – perhaps start a new career.
For us, living minutes from the sports capital of the Caribbean – Cabarete and the quaint town of Sosua in the DR has allowed us to have new experiences; meet new friends, be as busy as we like… or just call it a "beach day".
If you are planning to "unretire" here are a few reasons why the North Coast of the DR might be what you are looking for:
Beautiful Weather – We live in a tropical climate where the weather stays moderate year around. Temperatures average 25-29 degrees C. The trade winds provide a welcoming breeze helping to reduce the temperature and humidity. We also experience a rainy season later in the year from October to January, and sunnier, drier conditions during the hotter summer months from May to September. No matter what season you will have the warm sunshine (and no snow).
Protection from Hurricanes – A big concern with living in the Caribbean is hurricanes. The advantage of living on the North Coast is that we are protected by The Cordillera Septentrional mountain range directly behind us. Its highest peaks rise to an elevation of over 1,000 meters.  The north coast has not experienced a hurricane for approximately 30 years. In 2015 Hurricane Erika was disrupted due to the high terrain of the mountains and therefore all we received in the North Coast was some very much needed rain.

Affordable Real Estate – The Dominican Republic has the least expensive real estate in the caribbean. You can buy a 2 bedroom home (950 ft2) c/w your own private pool in a residential gated-community starting as low as $119,800 US.

Established Expat Community – Both Cabarete and Sosua have a large north american expat community Cabarete is internationally recognized as the sports capital of the caribbean offering plenty of water sports, events, activities and incredible restaurants located right on the beach. Sosua has amazing beaches for swimming, snorkelling and diving. You can find boutique shops, markets and a wide range of restaurants to meet everyone's budget. It is important when moving to a foreign country to establish new friendships and become part of the community.

Healthy Lifestyle – Caribbean living is mostly outdoors in the sun and fresh salty air. Be as active as you like to be. Learn to kite surf or take SUP classes. There are national parks, waterfalls and rivers to explore. Train for your first triathlon – TRiPOP, join a bike or swim club all in the North Coast. Healthy eating is inexpensive and easy with fresh organic fruit and vegetables readily available.  Most supermarkets such as Playero Supermercado and Super Pola in Sosua have "Health Food" and "Organic" sections. Try "Fresh Fresh" cafe for your favourite smoothie – my suggestion is the Very Berry Smoothie.

Strong Economy – The Dominican Republic is one of the fastest growing economies in the Caribbean. Results from Trading Economics shows the GDP increase from January 2013 ( 2.9% ) to January 2015 (6.6%). The DR is the top tourist destination in the Caribbean which is one of the biggest sectors for its economy. Perfect time to invest in real estate with strong rental income to help pay for future Caribbean home to "unretire".

Medical Services – We have great medical facilities close to us. Two minutes from our home we have a new medical facility, the CMC – Cabarete Medical Centre in Sosua. This facility is state of the art and has specialists from all over the world. 24 hour emergency and ambulance service is available as well as doctor home visits. In Puerto Plata a larger hospital Centro Medico Bournigal provides full services. A real benefit is no long wait times to make your next appointment.

Logistics/Travel – Puerto Plata's Gregorio Luperon International Airport (POP) is only 10 Km from Sosua which makes for a very short drive – great after you have been travelling all day. The Dominican Republic has also invested in upgrading most airports making for easier travel. New highways have also been built reducing the amount of travel time. What took 5 – 6 hours to cross the island now takes 3 -4 hours.

Pets in the Dominican Republic – No quarantine for healthy pets. We have three German Shepherd dogs so it was important we found a country that had no quarantine period and also had a great vet. Dr. Bob is our vet and he is wonderful!

And last but not least we can wear our Flip Flops all year!!

We love living in the North Coast of the DR and I hope the above reasons may help in your decision making for the perfect place to "Unretire" caribbean style!

*Special thank you to Live & Invest Overseas for their article "Unretirement".

If you have any questions please feel free to contact me!

[email protected]

Subscribe to our Newsletter & Stay Current!