Irma was classified as a category 5 hurricane sustaining winds up to 185 mph and it was barrelling our way towards  Cabarete – Sosua, North Coast of the Dominican Republic.  It is recorded as one of the strongest hurricanes in the Atlantic region. News media described Irma as "catastrophic" or "monster". We saw images of the unbelievable destruction Irma caused to our neighbouring islands. It was heart breaking!  Now it was scheduled to hit the North Coast of the Dominican Republic on Thursday, September 7th.
Reflecting on Hurricane Irma and Why We Live in Cabarete-Sosua
The National Hurricane Centre (NHC) issued advisories for the North Coast of the DR.  We were under a Hurricane Watch and Hurricane Warning. This meant strong winds over 70 to 80 mph.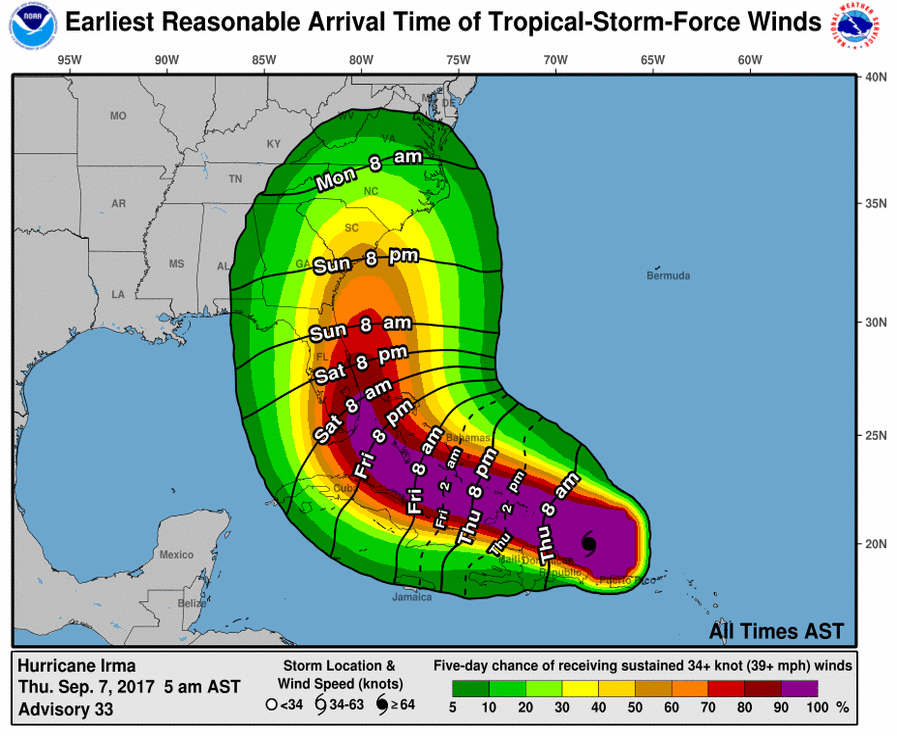 It was a bit surreal as typically the Cabarete-Sosua area in the North Coast has several natural factors that help prevent the chance of being hit by a hurricane. We have experienced Tropical Storms and Tropical Depressions with strong winds and some damages but not a direct hit from a hurricane. It was one of the reasons why we moved to this location in the North Coast.
Reasons Why the North Coast of the Dominican Republic is Protected from Hurricanes
Why does this happen? I am not an expert in hurricanes however after reading articles and having discussions with others that live in our area there is a consensus on two main reasons
Large Mountain Range Cordillera Central Protects the North Coast
The first reason is the Dominican Republic has the largest mountain Pico Duarte (more than 10,000 feet at it's highest peek) in the Caribbean.   Pico Duarte is part of the Cordillera Central which is the highest range of mountains in the DR. The cool mountain air plus the sheer size of the mountain will help diffuse any strong hurricane winds and protect most of the North shore.
Mona Passage Connects Atlantic Ocean and Caribbean Sea
The Mona Passage is a narrow strait that connects the Atlantic Ocean and the Caribbean Sea and separates the Dominican Republic from Puerto Rico. It is an important shipping route between the Atlantic and the Panama Canal. This 80 mile stretch of sea is considered the most difficult passages in the Caribbean. However the Mona Passage's strong tidal currants help push storms away from the the Dominican Republic.
Another reason is beyond the coral reefs in Cabarete-Sosua the Atlantic ocean floor drops quite drastically and the water temperature is much cooler. This cooler water will also help to minimize the affects of the hurricane.
Update: Shortly after writing this story the Caribbean experienced another category 5 hurricane – Maria. The Cabarete-Sosua area experienced only Tropical Storm winds as Maria was down graded to a category 2 after devastating our neighbouring island, Puerto Rico.  Click on Donations to find several charities for Hurricane Relief.
However Irma was proving to be one of the largest in the recorded Atlantic history. It was approximately 420 miles wide which is larger than most US states and we quickly realized an action plan was required.
Tip #1 – Prepare for the worst and hope for the best!
By Wednesday, September 6th,  it was confirmed that Irma was still on track to reach the North Coast for Thursday. You may be familiar with the phrase "the calm before the storm" well that is exactly how it felt. There was literally not a breeze to be found. It was very still and a bit eery.
We were receiving messages from friends and family telling us to keep safe. Someone asked me if I was nervous and my reply was "Oh Yeah!!" as my stomach did another flip.
Tip#2 – Keep your phones, iPads and any other tablets charged.
Our new neighbours (Larry and family) were staying in Casa Linda for the week setting-up their new home. Luckily for us as they were extremely helpful but unfortunately for them not the best timing. All flights were cancelled and flying back to Canada was no longer an option. This included Rich's flight to Toronto for our godson's wedding. Sorry Drew and Kelly however you both were in our thoughts.
Rich ran out last minute to buy supplies. His list consisted of canned goods, bottled water, batteries, wood to protect the windows, flashlights, a medical kit plus dog food. He texted me later in the day to tell me how busy it was and that he was still waiting for a new load of wood to arrive.
Tip #3 – Buy ahead and do not wait until last minute.
Larry and I drove around Casa Linda to check on all our client's villas to ensure outdoor furniture and smaller items went inside. Casa Linda's team had already tied furniture securely down in most of the villas. The maintenance team were busy cutting down tree limbs to ensure our communities safety. By 4 pm Wednesday, Rich and Larry had boarded up two of the bedroom windows. Our game plan was we (including 5 dogs and possibly 8) would all go into the bedrooms and ride out the storm.
Tip #4 – Don't forget about your pets to keep them safe!
Thursday, September 7th at 3:30 am we woke up to the sound of wind howling and rain whipping around the house. We were beginning to experience the outer bands of Irma. We got up to let the dogs out, make coffee and check on the latest hurricane advisory.
Tip #5 – Keep away from glass windows during Hurricanes or Tropical Storms.
A Huge Sigh of Relief Only a Tropical Storm
A huge sigh of relief as the latest NHC advisory and satellite images showed Irma had moved slightly north meaning we would experience only strong Tropical Storm winds. According to the Saffir-Simpson scale a Tropical Storm has winds from 39 – 70 mph.
By 3:45 am Larry joined us with his family to keep safe in one of our bedrooms. At 4 am Rich left to pick-up a good friend Curtis in Sosua along with his bull-dog Monkey so they also could keep out from harms way.
The remainder of the day was fairly uneventful thankfully. During the storm a large tree crashed and immediately Casa Linda was removing the debris to prevent further damage and maintain safety. Our homes and other villas had no serious damage. There were  fallen limbs, leaves in pools and shrubs that were leaning from the high winds. Our internet was out for a short period of time and by 6 pm the major part of the storm had passed.
The Dominican Republic was spared for the most part. There was some damage caused by high winds –  fallen trees, branches, etc. A few small towns located close to the water's edge experienced loss of homes. The ocean had huge swells and strong storm surges that created havoc to buildings along the beach or at sea level.
Many of the locals said God had protected them that day. I believe he did!
Over the past week Cabarete and Sosua have been busy with repairs and now are open for business. A notice today from our local networking reported that all resorts, hotels and airports in the Dominican Republic are operating under normal conditions. Indeed this is good news.